Some clients, when planning their itineraries, are confused whether to begin with Laikipia and end with Maasai Mara Reserve, or begin with the Mara and end up with Laikipia.
It mostly comes down to personal choice and what experiences you are looking for…let me explain further.
Maasai Mara Game Reserve
This is the most well known of Kenya's parks and is the place to be during the Great Migration of wildebeest from the Serengeti to the Mara. Thrills galore can be experienced at this time as the wildebeest attempt the dangerous river crossings, eagerly awaited by the predatory crocodiles. The sights and smells of the migration need to be experienced firsthand, to make for an extraordinary safari experience.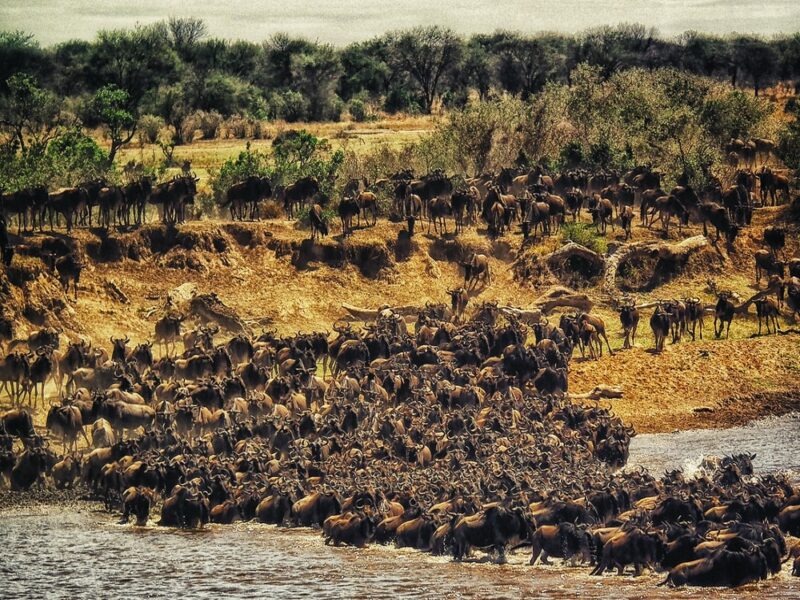 At other times of the year, the Mara is your best bet to see large numbers of game, and possibly witness a kill or two. Being the most popular game park in Kenya, you will probably be sharing this beautiful landscape with a host of other tourists, some of whom may be loud and uncaring of the environment, unless you choose to stay in one of the conservancies where visitor numbers are limited.
Laikipia
The 'safari ethos' here is low visitor numbers, limited accommodation, all adding up to a more exclusive experience. Great efforts are being made here for the survival of species like the rhino, Grevy's zebra and wild dog.
This is a place of adventure, magnificent landscapes and unusual experiences like camel trekking, sleeping under the stars, riding in an open vintage biplane, as well as hiking, and encountering rhino in large numbers.
Although game is plentiful, it tends to be shy and spread out over a large area so you may not experience the profusion of game that you see in the Mara.
Laikipia is said to be better for seasoned safari goers – either on your second safari or after you've visited the Mara and had your fill of game viewing. Although, first time visitors have been very satisfied with visiting Laikipia first – with its excellent guides and wide open spaces, it offers one the 'real Africa', and here you can also see where your tourist dollar goes to work.
So, for the first time safari goer
We would recommend Maasai Mara first in these instances
You want to experience the thrill of big game spotting immediately on arrival
You do not anticipate any major issues getting over your jet lag and would be refreshed after a good night's rest on arrival
Your main objective on safari is to spot the 'Big Five', the predators, or large numbers of game
You would like to end your visit with a more meaningful and peaceful experience
In the following instances, Laikipia would be our first choice for you
You want to start off your safari at a slower pace, getting into the feel of safari, before experiencing the Mara
Your main objective is to experience Africa in all its moods, not necessarily just to see game
You want to save the thrill of big game viewing to the end of your visit
You are interested in communities and their culture, as well as concerned about the future of the planet and are eager to work on this as soon as you arrive.
So which one is for you…The slow meaningful start to your safari followed by exciting glimpses of the big cats and larger game, or diving headfirst into Big Game, ending up with a softer, more peaceful safari?
You decide!!